Pribble Crop Insurance has a rich history of working with farmers in Central Illinois – from its beginnings in 1982 under the leadership of founder
Walt Pribble
through its current ownership.
Brent Pribble
joined his father in 2002 and was later joined by
Mike Kroeger
in 2006. Together they bring their agricultural experience to meet the crop insurance needs of area farmers. Walt farmed full-time while he settled thousands of crop insurance claims and grew the company by acquiring several smaller agencies. He later became one of the first agents in east Central Illinois to begin writing multi-peril crop insurance coverage to meet the 1995 USDA regulations on crop insurance.
Brent Pribble
, with a bachelor's degree in agronomy from the University of Illinois, obtained his insurance license in 1994 and used his experience in real estate appraisals, seed research and farming to compliment his father's relationships with customers.
Mike Kroeger
obtained his license in 2005 and joined the agency full-time in 2006. Mike was raised on a dairy farm in Teutopolis and is an engineering graduate from Southern Illinois University. He has transferred his experience of working with diverse groups of people as a plant engineer to work as an active crop hail claims adjuster. Today, Brent and Mike lead Pribble Crop Insurance, build upon lasting relationships to meet the crop insurance needs of their customers in five states throughout the Midwest.
Pribble Crop Insurance works with Farmers Mutual Hail and Great American Insurance Group. You get easy access to these premier insurance providers here:


To learn more how Pribble Insurance can meet your crop insurance needs, contact:
Mike Kroeger
(217) 202-9107
mike@pribblecropinsurance.com
Brent Pribble
(217) 840-8142
brent@pribblecropinsurance.com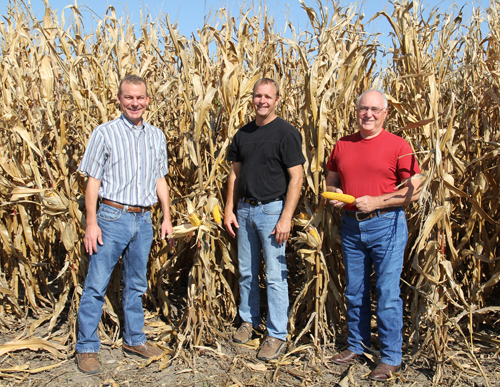 Left to right: Brent Pribble, Mike Kroeger, Walt Pribble